Frederick de Jersey Clere
1856 - 1952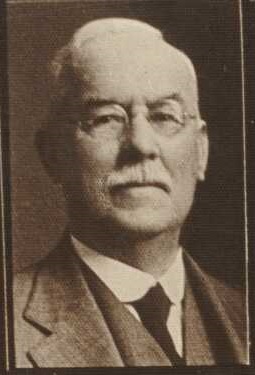 Frederick de Jersey Clere was one of Wellington's pre-eminent ecclesiastic architects and was a pioneer of reinforced concrete design in New Zealand. Clere was born in Lancashire and was the son of an Anglican clergyman. He was articled to Edmund Scott, an ecclesiastical architect of Brighton. He later became the chief assistant of Robert Jewell Withers, a London architect and a follower of the Ecclesiologists.
When Clere arrived in New Zealand in 1877, he practised first in Feilding and then in Wanganui where he partnered with Alfred Atkins to form Atkins and Clere (1883-1888). In 1883 he was appointed Diocesan Architect of the Anglican Church, and remained in that role when he moved to Wellington in 1886. He worked in Wellington for 58 years, in his own name and as Clere and Richmond (c.1891 – c.1895) with E. T. Richmond; Clere, Fitzgerald and Richmond (c.1895 – 1900) with Gerald Fitzgerald; Clere and Swan (1900- 1901) with John Sidney Swan; Clere and Williams (1919-1923) with Llewellyn Williams; Clere and Clere (1923 – c.1960s) with his son, Herbert Clere; and as Clere, Clere and Hill (1937 – 1939) with Herbert Clere and Henry Hill.
Throughout his career Clere was a pioneer and enthusiastic advocate of reinforced concrete design. His first ferro-concrete ecclesiastical design was the Anglican Church of St Mary of the Virgin, Karori (1911). He followed this with St Matthew's Anglican Church, Hastings (1913), his first Gothic church built in concrete, and with St Mary of the Angels (1922). St Mary of the Angels is an outstanding example of "ferro-concrete" Gothic design and is certainly his best known church. As well as being pre-eminent in church design, Clere was responsible for many domestic and commercial buildings among the best known of which are the Harbour Board and Bond Store, Wellington (1891), the Wellington Harbour Board Buildings and, in association with his son, the Renaissance-styled AMP head office (1928). Clere was also involved in the design of large woolsheds in Hawkes Bay and Wairarapa.
Frederick de Jersey Clere was active in the formation of the New Zealand Institute of Architects and served on their council for many years. He was also honorary secretary to the Royal Institute of British Architects for half a century. He was a member of the Wellington Anglican Diocesan Synod and the General Synod, and held the appointment of Diocesan Architect of the Anglican Church for most of his professional life. He was also a member of the New Zealand Academy of Fine Arts.
Image: Andrew, Stanley Polkinghorne, 1878-1964. Andrew, Stanley Polkinghorne, 1879?-1964 :Members of the Wellington War Memorial Carillon Society, 1925-1932. Ref: PAColl-D-0046. Alexander Turnbull Library, Wellington, New Zealand. http://natlib.govt.nz/records/23026891
Sources:
Cyclopedia
N.Z. Building Progress; July, Dec. 1913; Aug., Sept., Oct., 1917; April 1922.
Mew, Geoff & Adrian Humphris. "Raupo to Deco: Wellington Styles and Architects 1840 – 1940" (Wellington: Steel Roberts Aotearoa, 2014)

NZHPT Glossary
WCC Heritage Inventory 2001
Last updated: 11/8/2016 10:08:18 PM